Family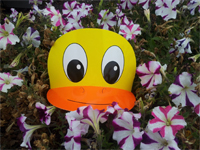 Annual Duck Parade
On the first Saturday in June our community gets together for the annual Duck Daze celebration.
The event began almost 15 years ago when Terry Reim recruited Dixie to be a co-founder of the University Place Farmers Market. They felt we needed to bring our community together. What better way to celebrate than with a parade and celebration in our beautiful main street, Bridgeport Way, that the city had just completed. Then there was the theme, spring showers are almost gone and we are heading into summer so let's celebrate the end of the rainy season.
What better mascot than ducks!
This is now an all day event with a parade, food, entertainment and many vendors.
---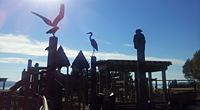 Playground By The Sound
Chambers Bay was the home to the 2015 US Open. We are all excited that people from all over the world now know just how special University Place is.
Only a few years ago, we were inspired by good friend, Jim McCaffree, inviting us to be a part of a playground that would be built at this location. Jim has a passion for children and it was a natural Dixie would want to be part of this project. Children at play bring laughter and joy to a world that sometimes needs it more than ever.
Being involved in the Tahoma Audubon Society we were excited to provide the funding for the bird entrance to the park, in honor of Thelma Gilmur.
Outdoor play is enjoyed by all children with a beautiful view of the Puget Sound. Stop by sometime and take part in "one of the best days ever."